About Steve
---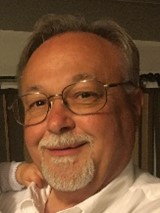 Steve Woodruff is a retired Providence Police officer, retiring with the rank of sergeant in charge of the Traffic Bureau. He was a motorcycle traffic officer for twenty-two years (22) of a twenty-six (26) year career.
Steve is an expert in accident reconstruction (RI Superior Court), as well as an expert in alcohol and drug impaired driving (RI Family Court and RI District Court). He was an adjunct instructor for the National Highway Traffic Safety Administration (NHTSA) and the National Association of Chiefs of Police (IACP) instructing in many states across the country. During his time working with the federal government he was a nationally certified course administrator, coordinating all aspects of the classroom training as well as the on-the-job portion of the training.
After retiring for medical reasons, he transitioned to the RI Department of Motor Vehicles as a License Examiner giving the road test throughout the state. With his background, he is familiar with many of the causes of motor vehicle collisions as well as the motor vehicle code.
Currently, Steve works at the Department of Children, Youth and Family in the Budget office. He still rides his motorcycles and is a "Mopar" muscle enthusiast.
With skill, knowledge and patience, Steve is able to instill in his students the ability to not only pass their road test but drive safely in the years that follow.
Steve looks forward to assisting you with attaining your License.
---
401 Driving School is a state authorized driving school certified by the Rhode Island Division of Motor Vehicles and is one of the finest driving schools in Rhode Island. 401 Driving School offers exceptional service. I believe in top quality instruction that goes far beyond our customers' expectations. 401 Driving School offers a wide range of instruction catered to teens and adults possessing various levels of skill.
I am skilled, knowledgeable and patient. As a former Rhode Island DMV Road Test Examiner, I have many years of experience. I am also a former Sergeant in a City Police Department; specializing as a Traffic Officer, Accident Reconstruction Expert, Alcohol and Drug Impaired Driving Expert along with being a Nationally Certified Adjunct Instructor.
Thorough and Patient
Door to Door Service
Local, City and Highway Driving
Parking, Backing and Three Point Maneuvers are explained and taught
Road Test Rehearsal! - One of your lessons will include a visit to either Providence, Middletown or South Kingstown to practice the same routes that the DMV may use on your road test.
Dual Control Vehicle
Unmarked Vehicle - no need to be a rolling billboard. I want you to be comfortable and at ease at all times.